The Blackhole named Cygnus X-1 formed when a large star caved in. This Blackhole pulls matter from the blue star beside it.
Credit: NASA/CXC/M.Weiss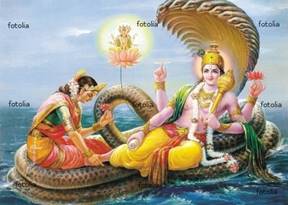 Bhagwan Vishnu's body is Cyan and garments are yellow. He creates and sustains life. Question is why these colours so attributed to Him? Answer lies in Spectral classes of stars, classified from O through M, where O, B, and A stars are sometimes called "early type", whereas K and M stars are said to be "late type″ based on their formation. Stars that sustain are shown as yellow (FGK)and they only have the capability to impart heat and other cosmic energies to create and sustain life on their planets. Bhagwan Vishnu's is said to be Sustainer God, and dressed in yellow, having Cyan body and sitting on coiling serpents in the Ocean of Milk. The entire personification is picturesque enough to show galactic involute with starry streams illuminating out of dark spaces, with specific energies to sustain life.
DECIPHERING VISHNU
आदित्यानामहं विष्णुर्ज्योतिषां रविरंशुमान्।
मरीचिर्मरुतामस्मि नक्षत्राणामहं शशी।।10-21।।
Among the group of suns, i.e. Adityans (cluster of suns) I am Vishnu (The Galaxies); among the luminaries, I am Ravi (i.e. Sun, the king of rays), I am Marichi among the Maruts, (the tornado winds); and among Nakshatra (constellations or asterism) I am Shashi, the moon.
Galaxies have a life, which are much longer than billions of solar systems it contains. Finally, it dissolves into black holes, and recreates as supernova burst, giving birth to several planets with/without life. Note the birth of Lord Brahma from Vishnu's Naval. Hierarchies of Shiva, Vishnu and Brahma is evident as 1000 days &nights of Lord Brahma equals one day of Vishnu, and 1000 days and nights of Vishnu equals one day of Shiva. Clearly Vishnu is related to hordes of suns, or galaxies, Lord brahma the solar systems, and Lord Shiva, the Brahm or universe with physical and metaphysical energies.
लेलिह्मसे ग्रसमानः समन्ताल्लोकान्समग्रान्वदनैर्ज्वलद्भि:।
तेजोभिरापूर्य जगत्समग्रं भासस्तवोग्राः प्रतपन्ति विष्णो।।11-30।।
(I see) You're licking or swallowing and devouring them all overwhelmingly, from all the worlds by the blazing mouth. (flaring blackhole lick and swallow celestial mass and adjacent stars – see image on left) Your radiance is brightening the entire worlds, and your fierce rays are scorching everything around, O' Vishnu!
Note the attributions made to Bhagwan Vishnu, and the similarities with galaxies or similar celestial bodies made of numerous suns.
अविभक्तं च भूतेषु विभक्तमिव च स्थितम्।
भुतभर्तृ च तज्ज्ञेयं ग्रसिष्णु प्रभविष्णु च।।13 .17।।
 (it's the same unmanifest energy that …), undivided it exists in beings (or matters), and also appears divided. He sustains and  provides for all, know him as Vishnu that is devouring all and yet re-creating them with brilliance. Grasishnu is the devouring galaxy, which swallows. Vishnu is said to devour other Galaxies, and was devoured once by Andhaka, the Blind devil. Prabhavishnu is the emerging galaxies, with extreme radiance, or like Super Nova. It is recreator, as per scriptures and sync with science where supernova is said to give births to millions of stars, and solar system, and life eventually.
Note that Vishnu is said to be living in Ksheer Sagar, which literally means 'The Ocean of Milk representing hordes of bright suns. Remember the Milky Way is the name of our Galaxy. In fact, all galaxies have billions of suns and hence look like white gliding stream of milk surrounding a black hole, hence the name of His abode Ocean of Milk or Ksheer Sagar. call it ocean of Milk with hordes of white snakes or streams of spiralling suns. Lord Brahma is said to be born of Vishnu's naval, as in picture.
Fig 8: Deciphering Vishnu As Galaxies.